Fashion Blogger Milly Q
Hydra-Oxygen Skin Treatment
Do you remember the Le-Renouveau clinic I introduced to everyone three months ago because of my bestie? 
(See here: Fashion Blogger:Milly Q's Balanced Aesthetics))
On returning to Taiwan from Paris, to solve my skin problems caused by the climate, water quality, and stress while in Paris, I visited the Le-Renouveau clinic upon the recommendation of my best friend. The results were amazing, and I became a regular client immediately after the first visit! The clinic's environment, the professionalism of Dr. Ko, the high-quality services, the attentive care, and privacy all won me over in an instant. I can't help but praise this wonderful place! After seeing my flawless skin, all of my friends wanted to book appointments at the clinic for their own consultations. I even bought Mr. Xu a skin management program as a Christmas gift! !🎁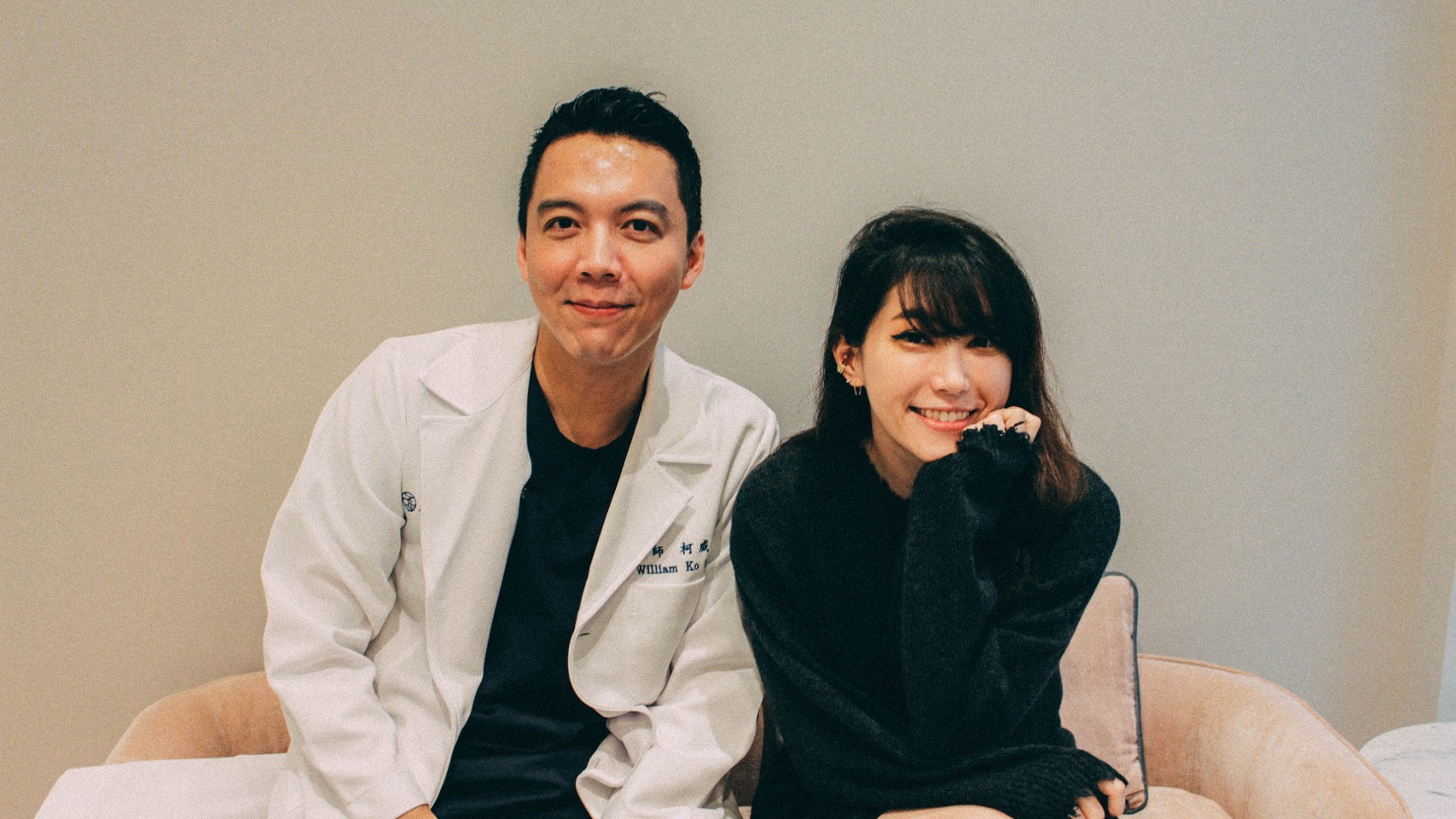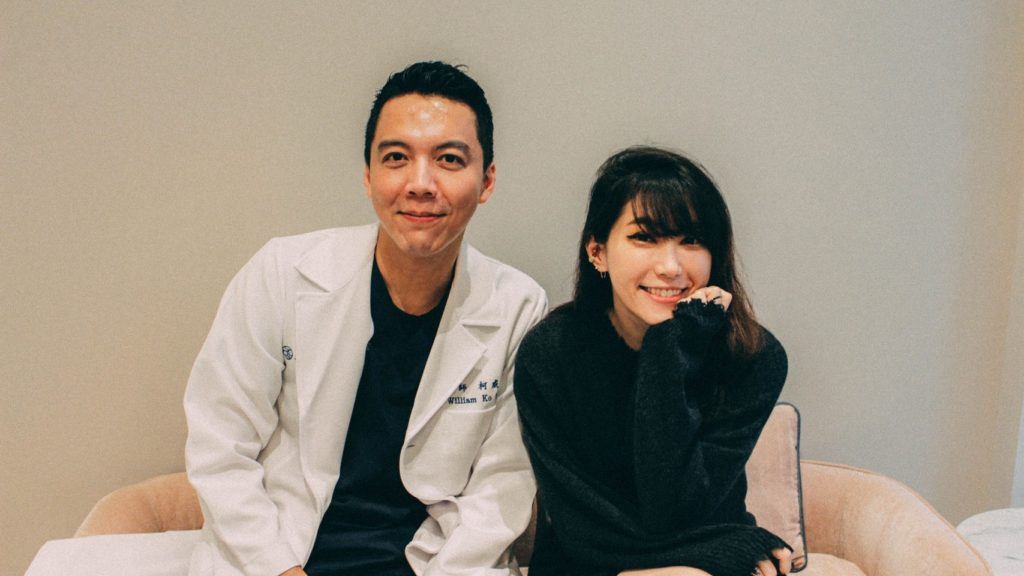 While in Paris, I remember how every time my bestie would look at me on a video chat and say, "Hey, your skin has always been good, and it's still good now compared to that of an average person. But I'm strict about my skin and so are you! So I recommend you to go to Le-Renouveau clinic and get a consultation as soon as possible!" It's a blessing to have friends who are straightforward, honest, and knowledgeable.😂。
Alright, to be honest, I was shaken by the condition of my skin in Paris and had never experienced anything like it before. I had never experienced translucent power, makeup not staying on, and skincare products not working. However, in Paris, these problems became worsened so much that I felt super embarrassed seeing the powder on my face during a photoshoot! !
So, soon after returning to Taiwan, I made an appointment! I first stepped into Le-Renouveau clinic on October 21st of last year, and it has now been over six months. I finally have some time now to carefully organize all my records of the process and share them with you all!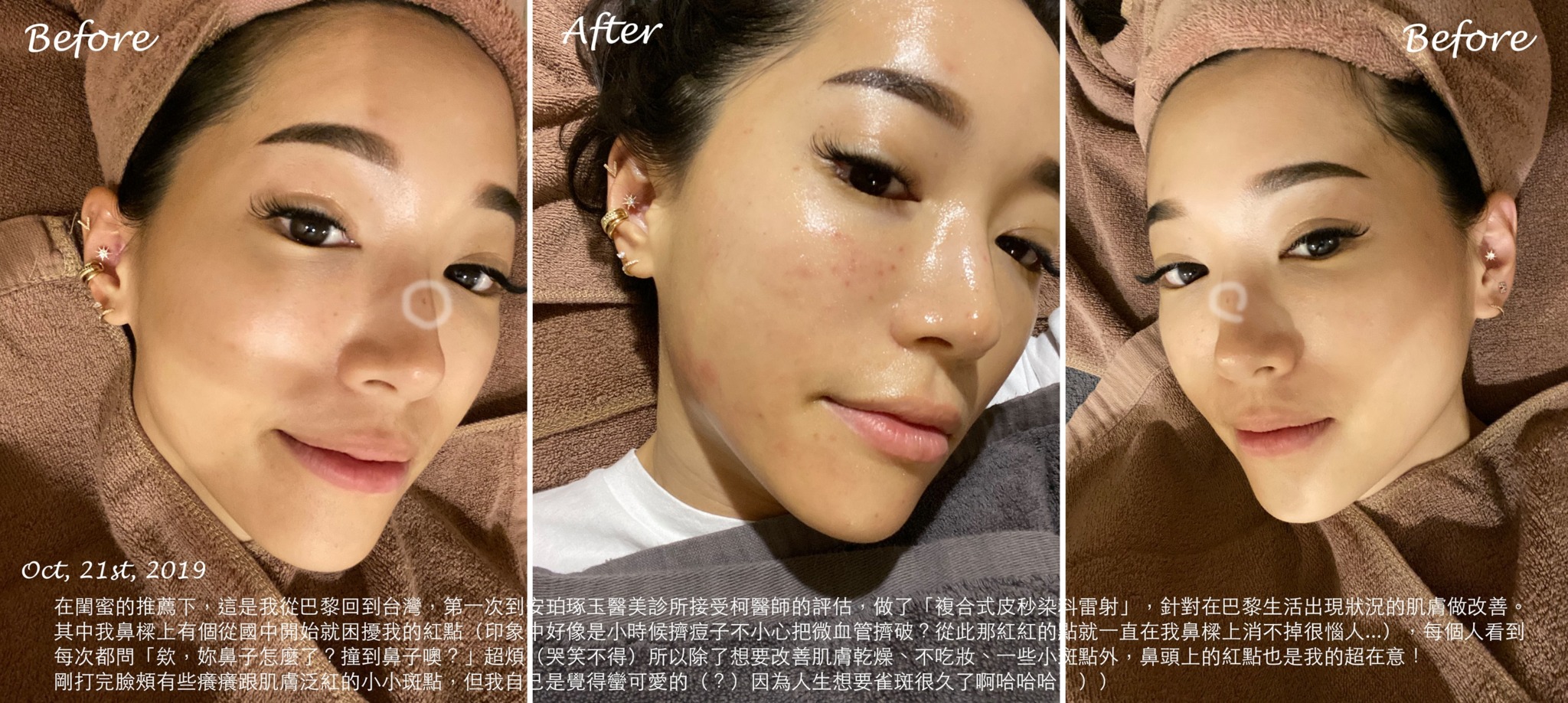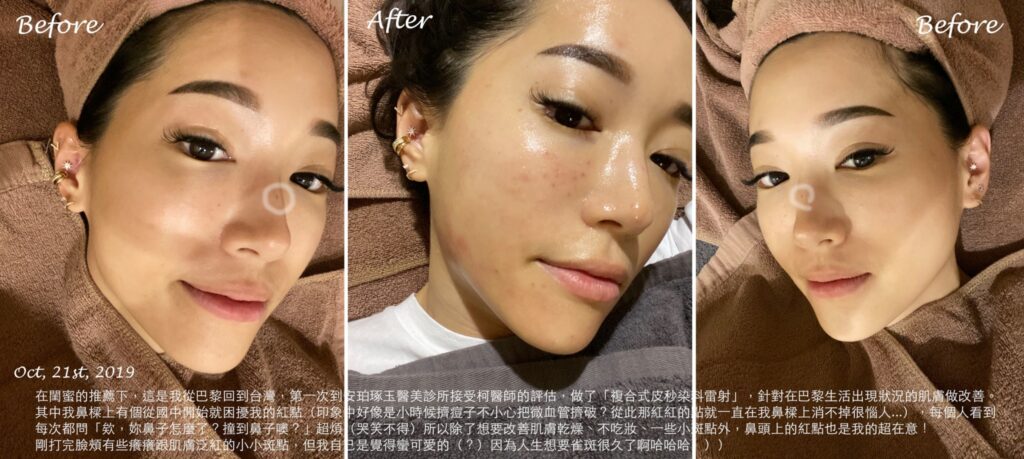 After evaluation from the #dermatologist Dr. Ko, I received my first "#Vbeam Perfecta Pulsed Dye Laser," targeting minor spots, dullness, uneven skin tone, and the small red spot on my nose that I haven't been able to get rid of since junior high school. Although I was apprehensive about the pain, the actual treatment process turned out to be quite tolerable. The gentle reassurance and comforting presence of Dr. Ko and the nurses helped me stay calm, and I felt really relaxed throughout the process.
After the treatment there were some red spots on my face that I thought looked like the cute freckles on the little girl from the Wendy's logo, so I didn't really mind (hahaha). The next day, I just applied some light foundation and went out to show the results to my best friend.❤️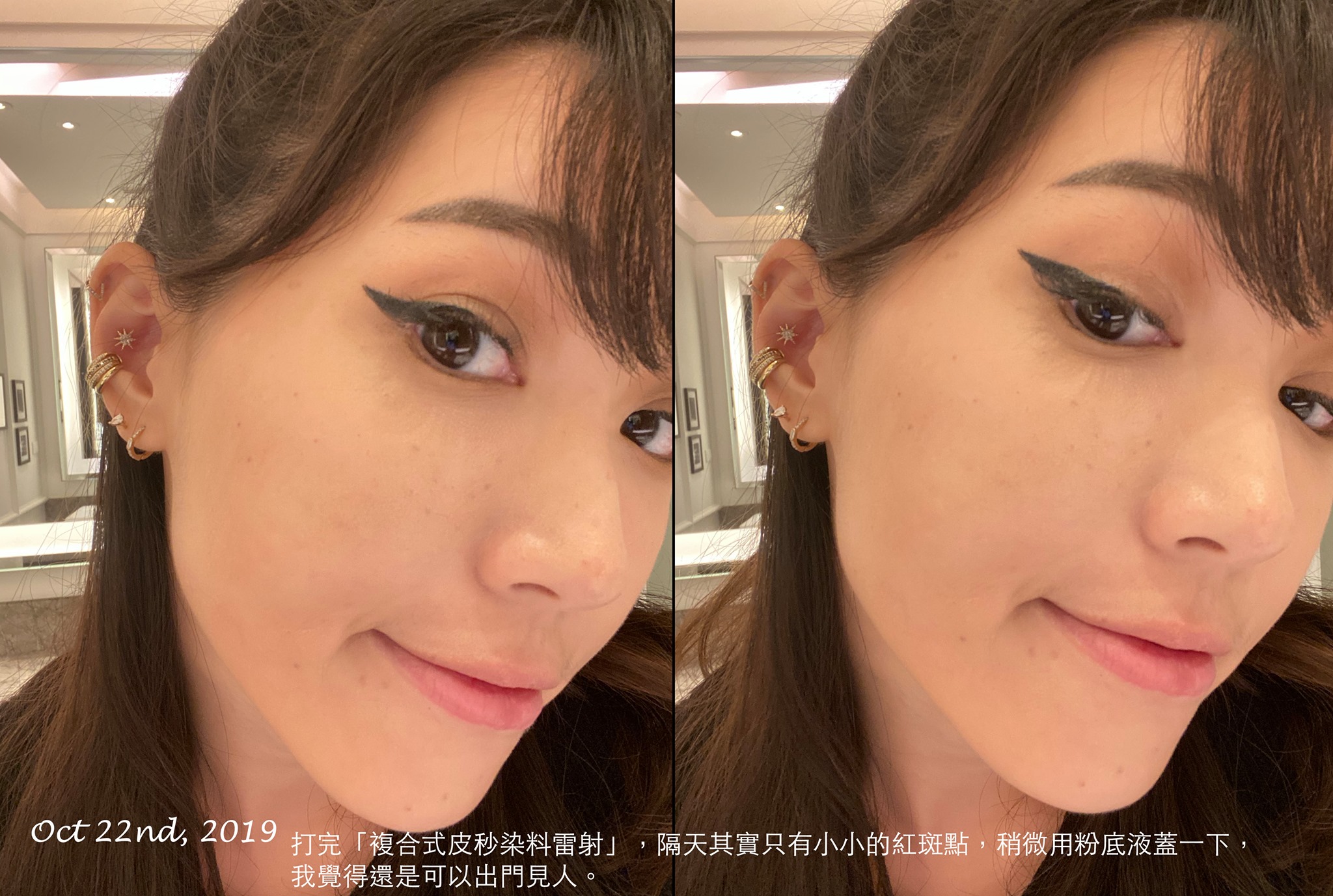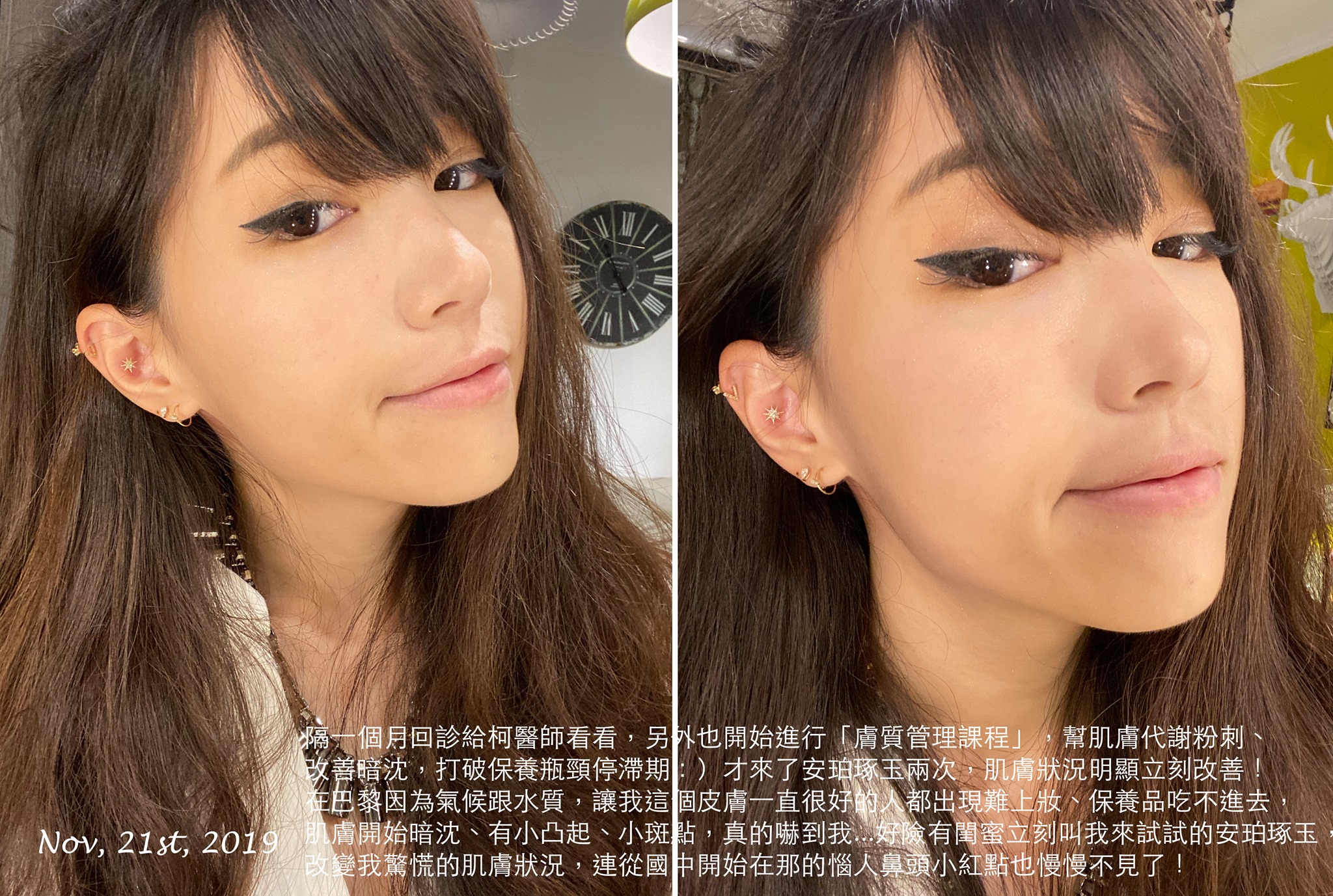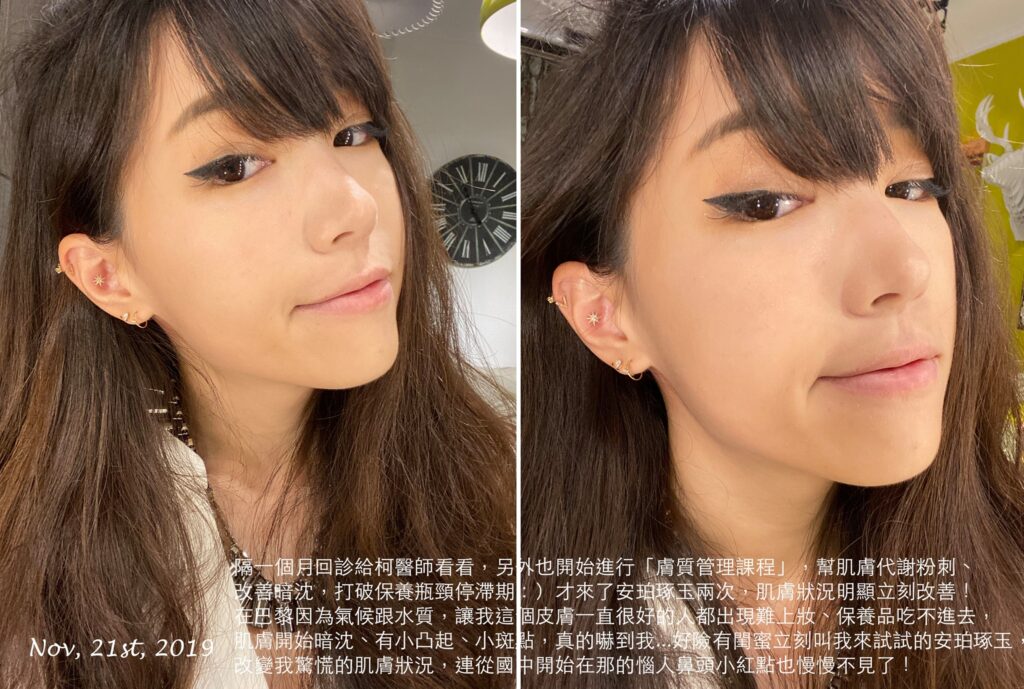 I returned a month later and was very satisfied with the effects of the Vbeam Perfecta Pulsed Dye laser treatment, which has improved and cleared up my skin condition after only one course of treatment! Dr. Ko also went a step further and arranged a "#comprehensive skin management" program for me, which includes the #HydraFacial treatment for eliminating acne and dirt (also generally called DermaClear, but in Le-Renouveau's skin management program, it is called HydraFacial). They use a tube to remove out all the dirty stuff by suction. Seeing the whole jar of acne liquid was so rewarding (laughs)!

Next, I had a session of skin management that was focused on facial care. It included using an ampoule for moisturizing or brightening, applying a face mask, and doing facial massages to help skin fight acne, improve dullness, and helped overcome a plateau in my skincare routine. After just one session, my face showed instant radiance and glow! Seriously glowing! It even greatly improved my annoying nose acne that I've had for a long time. In fact, during the second and third skin management sessions, they could hardly suction out any acne or dirt. The effects were so good!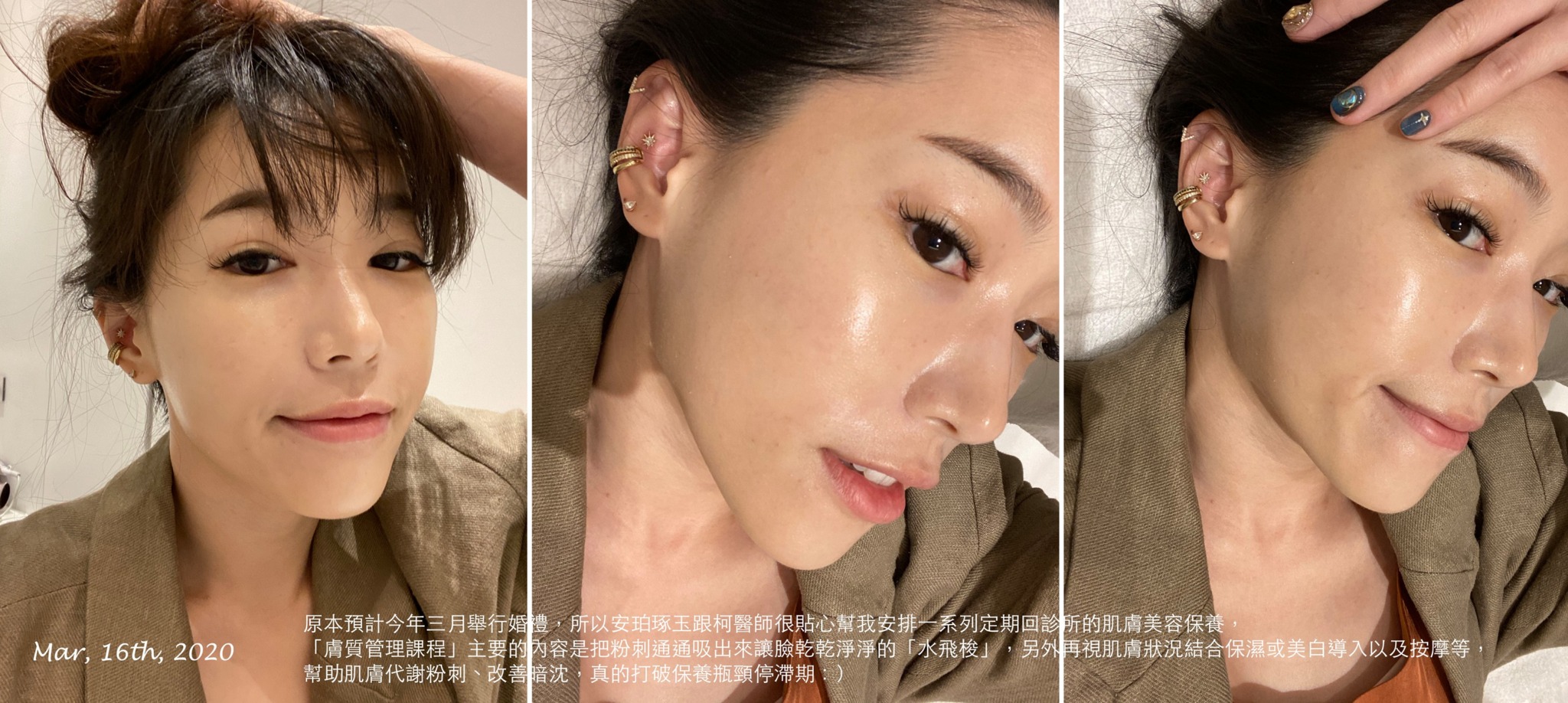 I remember after my first skin management session, I video called Mr. Xu; he was amazed and exclaimed, "Baby! Your face is shining so bright! It's so bright that it's reflecting the light! What did you apply? It looks so good, I want it too!"

Well, I can proudly say that I was wearing absolutely no makeup and didn't apply anything. After my skin management sessions, I didn't even wear foundation while going out because I felt that my skin looked better without it! (It sounds unbelievable, but that's how I felt). I only wore tinted moisturizer when I went out. Therefore, many people asked me how I managed to exercise without makeup running off my face. It's because I hardly wore any base makeup, just eyeshadow and eyeliner, and so even when I was sweating due to the workout, there was no difference in my appearance.

I think guys like Mr. Xu who aren't into skincare can benefit from the "HydraFacial" treatment, which can help them get rid of a lot of acne and dirt by suction. So without hesitating, I gifted it to Mr. Xu!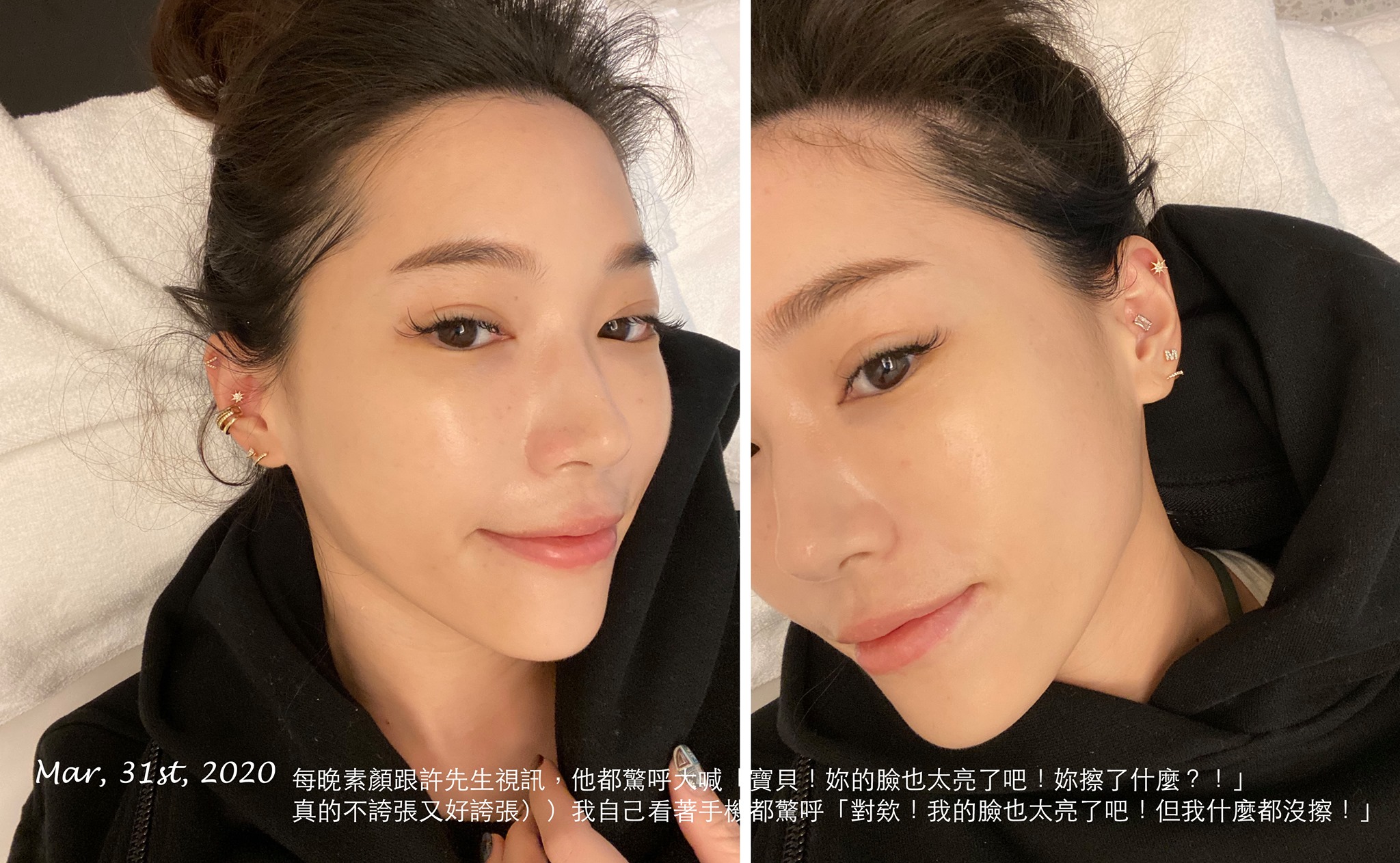 As our wedding was originally planned in June this year, I was dedicated to maintaining a strict skincare routine. Moreover, the environment at Le-Renouveau clinic is extremely good and comfortable, and the nurses are thoughtful enough to provide a variety of snacks during every visit. As a result, I noticed myself visiting quite often. After 2 to 2.5 hours of skin management time, I would straight fall asleep.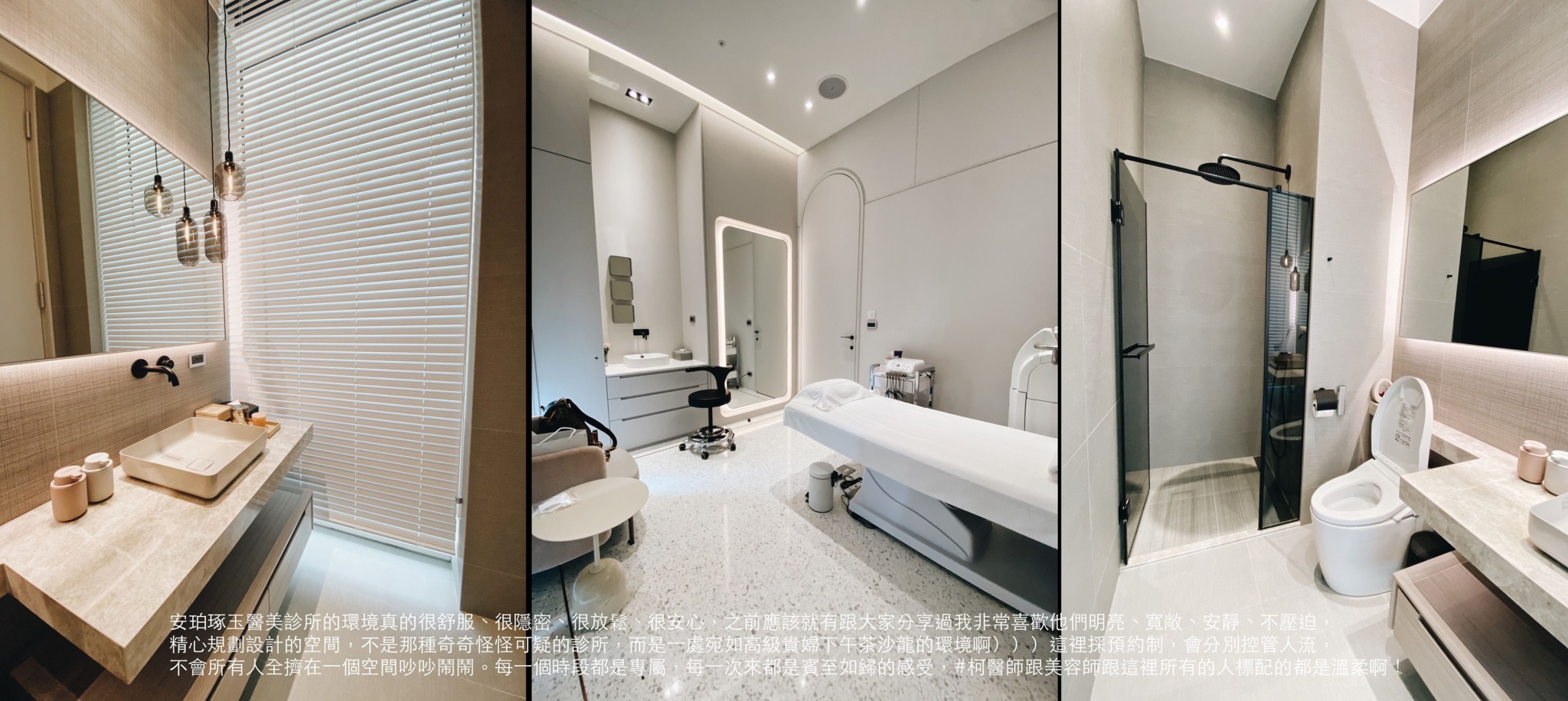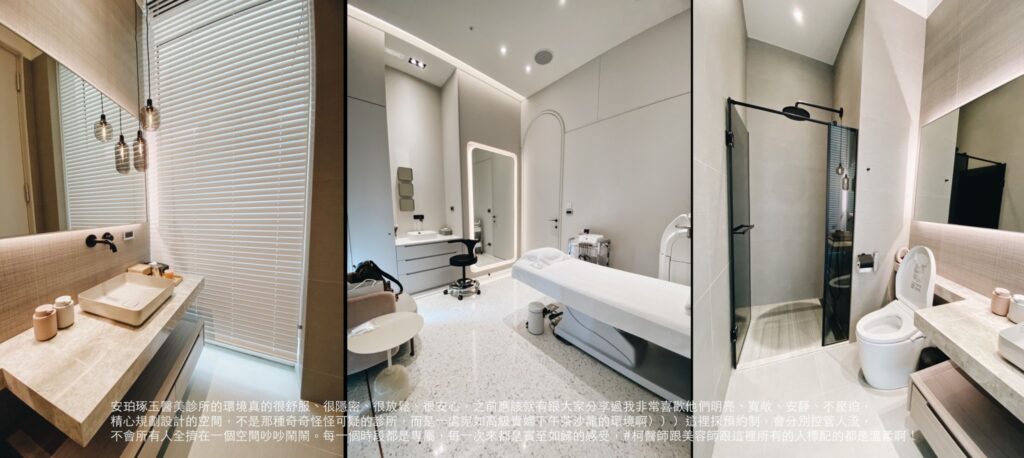 Due to the disruption caused due to the pandemic, our wedding has been postponed to next year. However, before returning to Hong Kong, I underwent several skin management sessions to make sure my face would shine all the way home (laughs). I feel it's truly amazing that my skin has become so incredibly smooth and clean that with their help, and all the tiny red spots on the bridge of my nose that had troubled me for several years have disappeared. (Supposedly caused by broken blood vessels from squeezing pimples in the past, these red spots couldn't be improved or eliminated by trying multiple skin care products. And now they're gone! ) I'm really grateful to Dr. Ko and the #Le-Renouveau Clinic. 🙏🙏🙏)))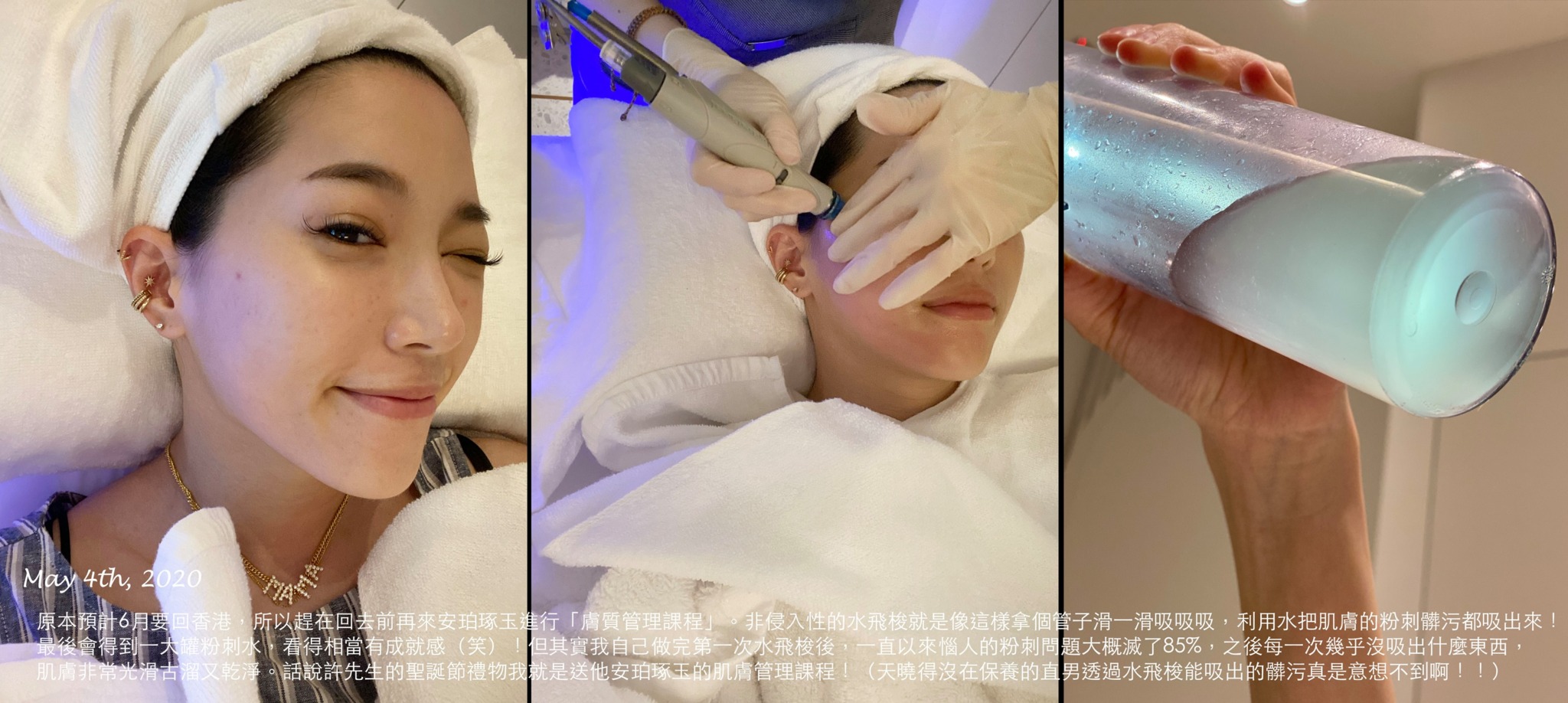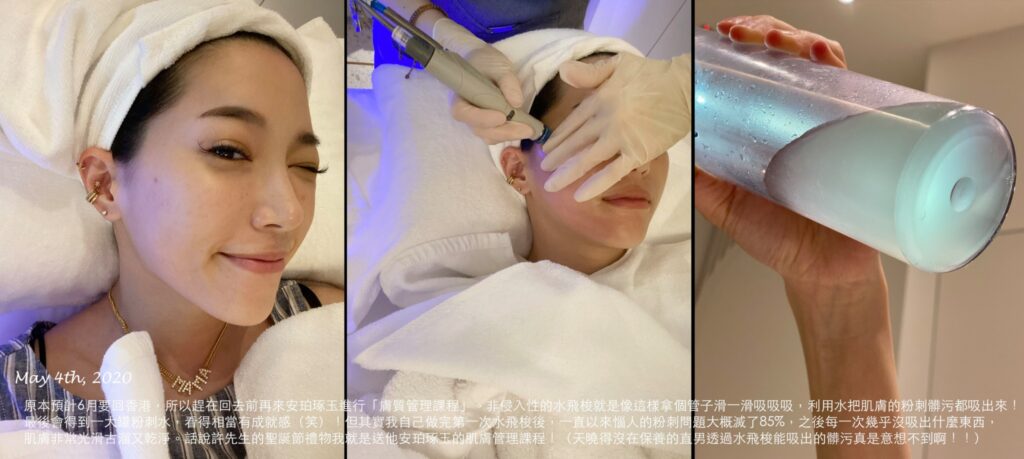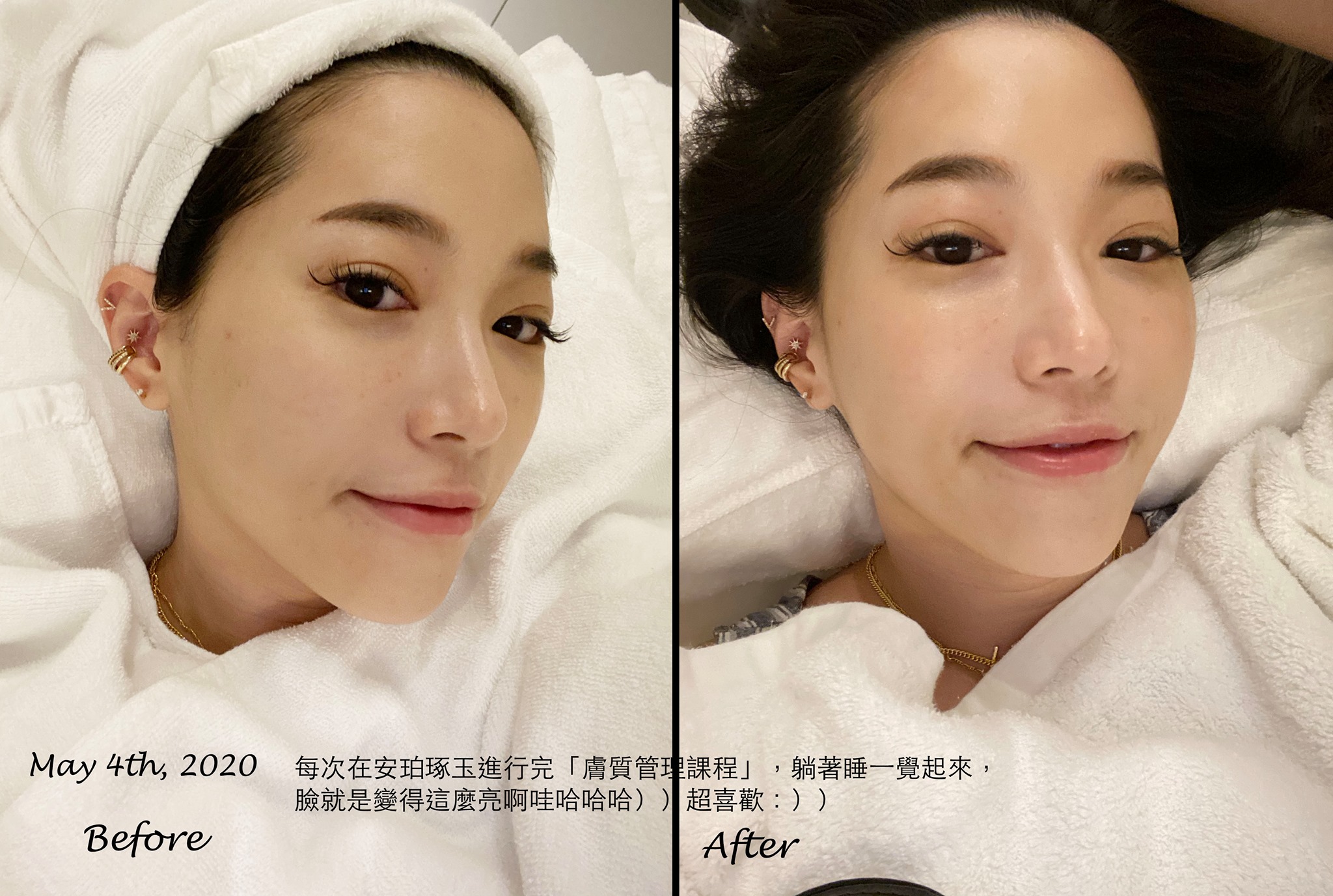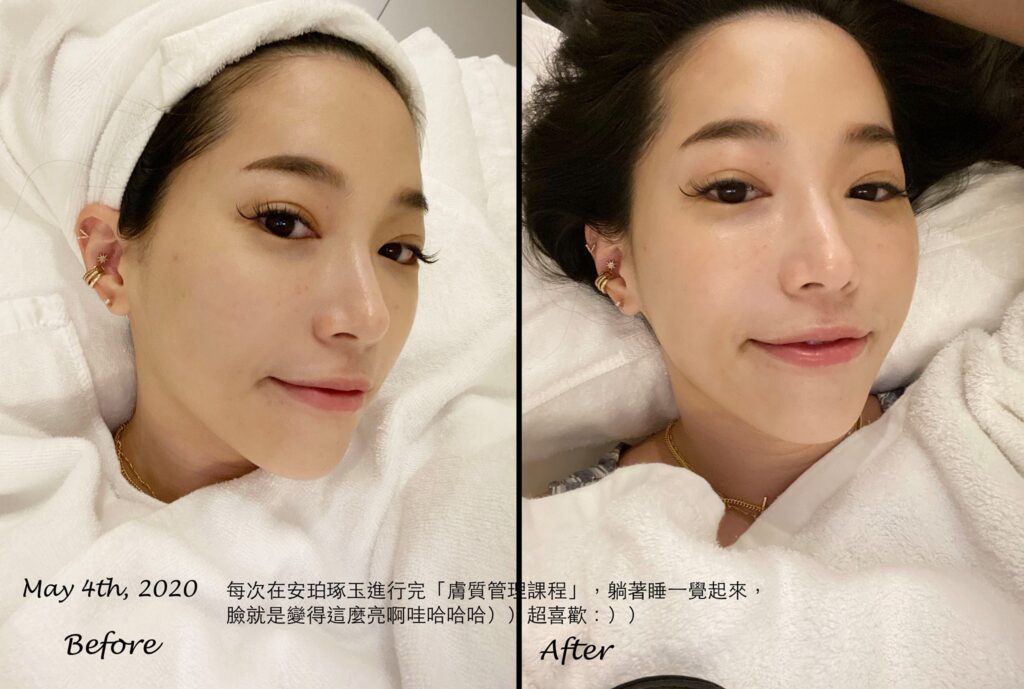 I take a short nap after every skin management session at Le-Renouveau, and my face becomes so bright on waking up. I really love it!
It has been long since I last shared a post about their #balanced aesthetics. The 6-month skin management program is a long process, and I took numerous photos at the clinic each time. Because of my busy schedule, it took an additional three months to sort everything out to share it with everyone. I hope that people with skin problems who couldn't find a solution will be able to feel relieved from this post!