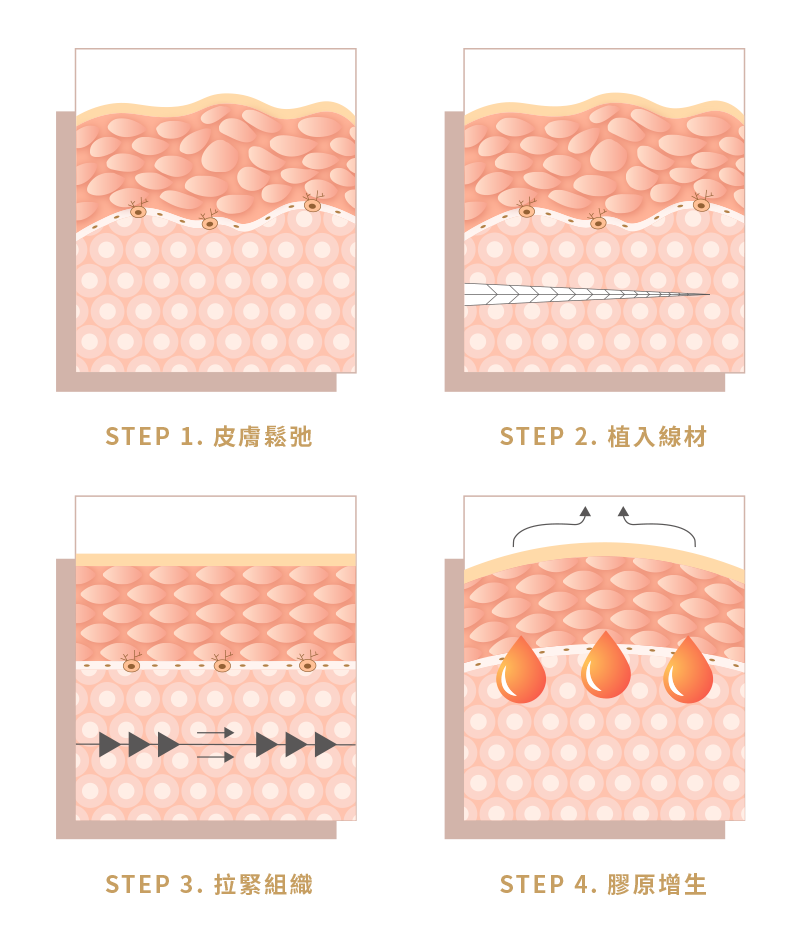 A thread lift procedure involves inserting specially designed surgical sutures under the skin using a guided needle approach. The sutures allow for an immediate lifting effect by grasping at and stabilizing the skin layers. Additionally, the material used in the sutures stimulates the local production of collagen, achieving a tightening and refining effect on the skin.
Who is thread lifting suitable for?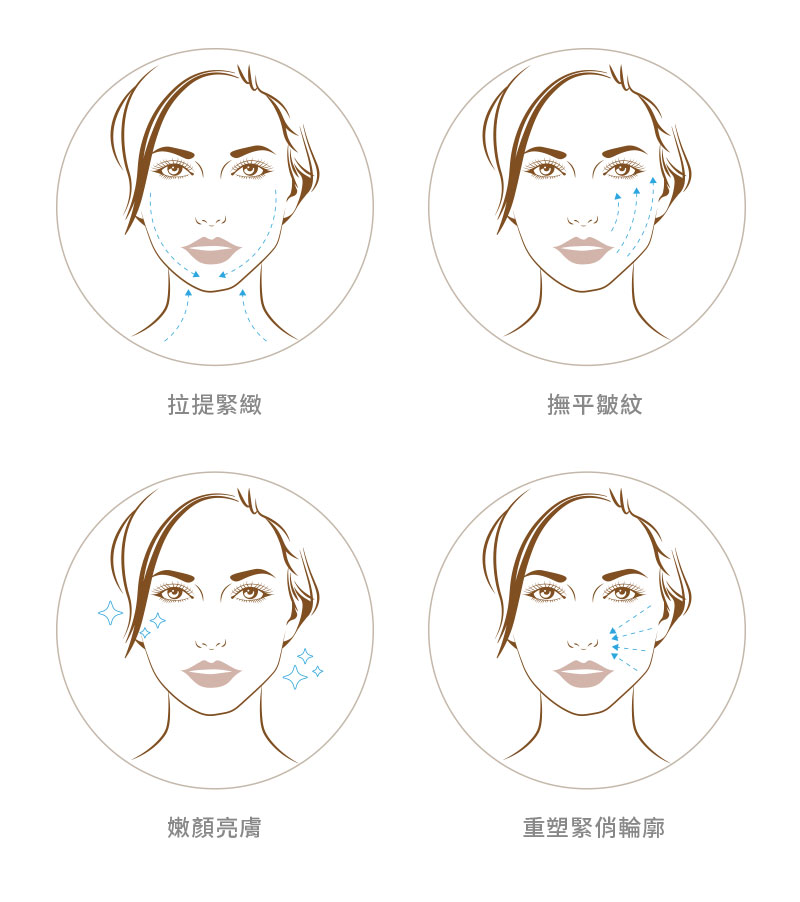 Individuals with mild to moderate facial sagging who are comfortable with minimally invasive treatments. Those who hope to see immediate results after treatment, achieve facial lifting and tightening, and promote the production of collagen in their skin.
Individuals with moderate to severe facial sagging who are not comfortable with traditional facelift surgery. Those who hope to achieve lifting of sagging skin through a low-maintenance treatment.
Individuals who have previously received RF and HIFU treatments but are unsatisfied with the results.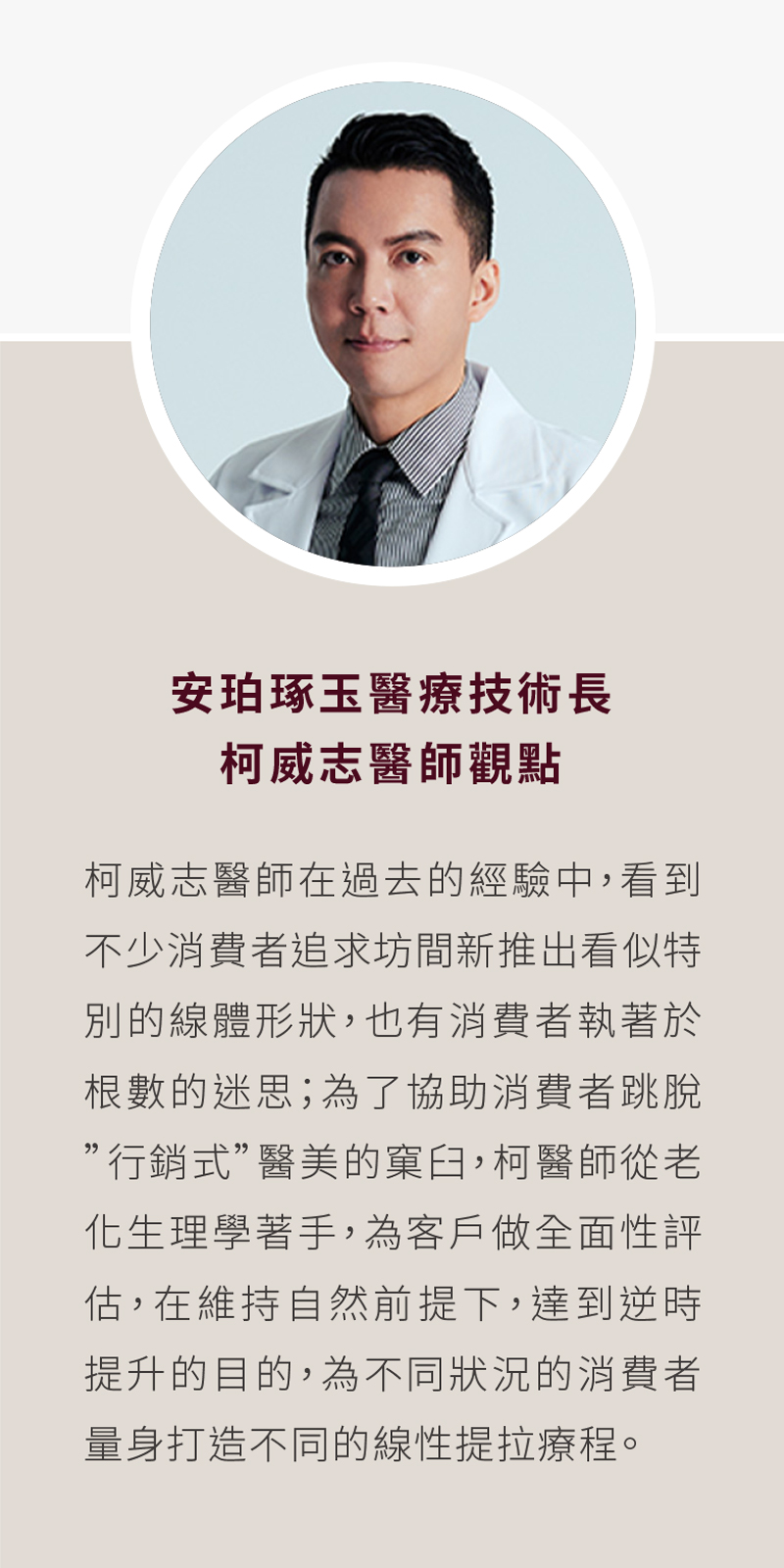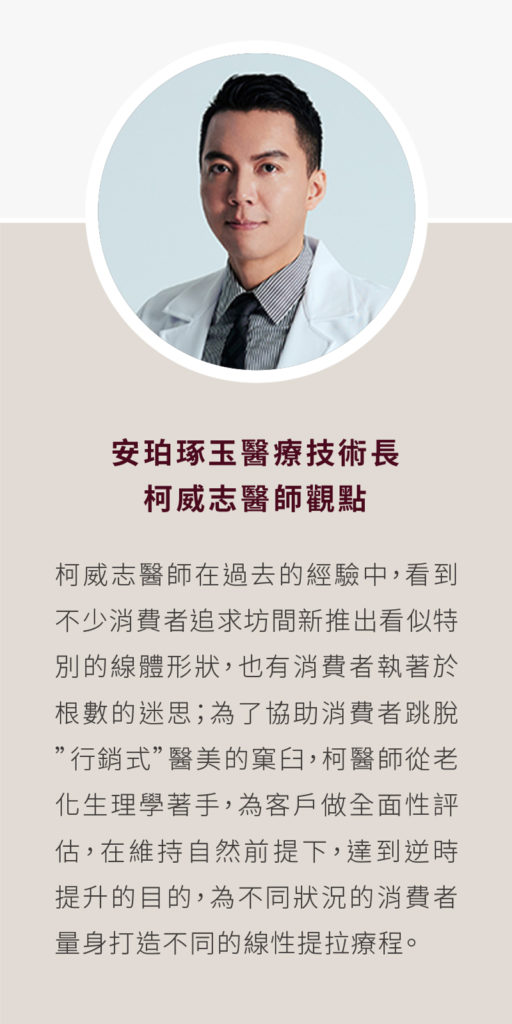 Before the treatment, it is necessary to communicate fully with your doctor about the scope of your desired results.
Avoid wearing makeup, accessories, and contact lenses on the day of the treatment.
Go to bed early the night before the treatment and do not stay up late.
This treatment is not recommended for pregnant women, diabetics, and those with acute cardiovascular disease.
If you have a tendency to develop keloids or hypertrophic scars, please inform the doctor in advance.
n the two days prior to treatment, it is recommended to avoid consuming alcohol and smoking, and to eat light meals.
It is common to experience local bruising or swelling during treatment, which are common side effects of using needles for the implantation of threads. These symptoms generally disappear on their own within a few days. After the procedure, anti-inflammatory and pain relief medication will be prescribed for 3-7 days as per the doctor's instructions.
It is common to experience mild pain in the threaded area, and one may feel a pulling sensation when making large facial movements. To avoid loosening or shifting of threads, it is recommended that you refrain from excessive facial movements and expressions for the two weeks following the procedure. This will ensure the effectiveness of the lifting effect.
The extent of pain, bruising, and swelling may vary depending on the complexity of the treatment and the number of threads implanted. Since each individual's situation is unique, it is best to discuss any concerns with the doctor.
Over-pulling can cause local depressions, which typically do not require special treatment and heal on their own within a few weeks as facial movements return.
After surgery, individuals may experience swelling and discomfort (itchiness, pulling, tightness), which are normal reactions and can vary depending on one's individual constitution.
Those who are seeking the same effects from their treatment as would be gained from plastic surgery. Thread lifting has a more natural effect.
Those with excessive sunken cheeks. In this case, it is recommended to prioritize getting evaluated for filling treatments.
Those with excessive scar tissue in the planned treatment area.
Those who are unable to undergo the short recovery period required after the thread lifting treatment.